Exceptional properties
2021-12-15
Casa 26, in Thonon-les-Bains
Located on the shores of Lake Geneva, this waterfront villa is much more than a house, it is a work of art offered for rent by BARNES and the luxury resort company Otoctone.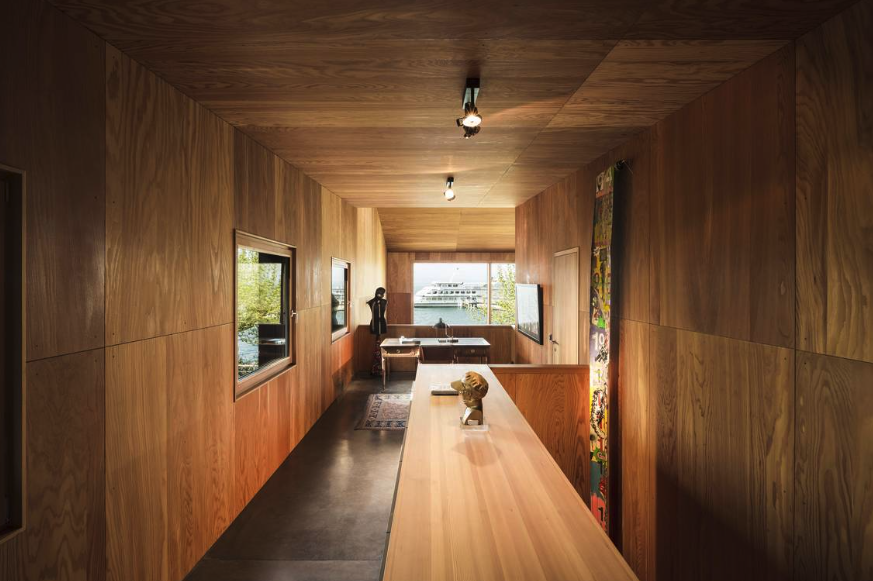 Set on a 2,000m² long, sloping plot of land with a view from the top of the road to the lake below, Casa 26 was born from the imagination of the artist Marc Dentand. Built in 2010 and then bought in 2017 by the Otoctone company, which specialises in renting out luxury properties, this 320m² villa has been eco-designed using three materials: black steel, larch and waxed concrete. It follows the shape of the land and its height increases as the slope goes down, from 2.80 metres at the back to 9 metres at the front facing the lake. Its shape is reminiscent of a ship's hangar, covered on the outside with a steel hull, originally black, which has oxidised over time and become orange. Inside, slabs of Alpine larch cover the walls, reinforcing the warm effect of a boat cabin, while waxed concrete covers the floors.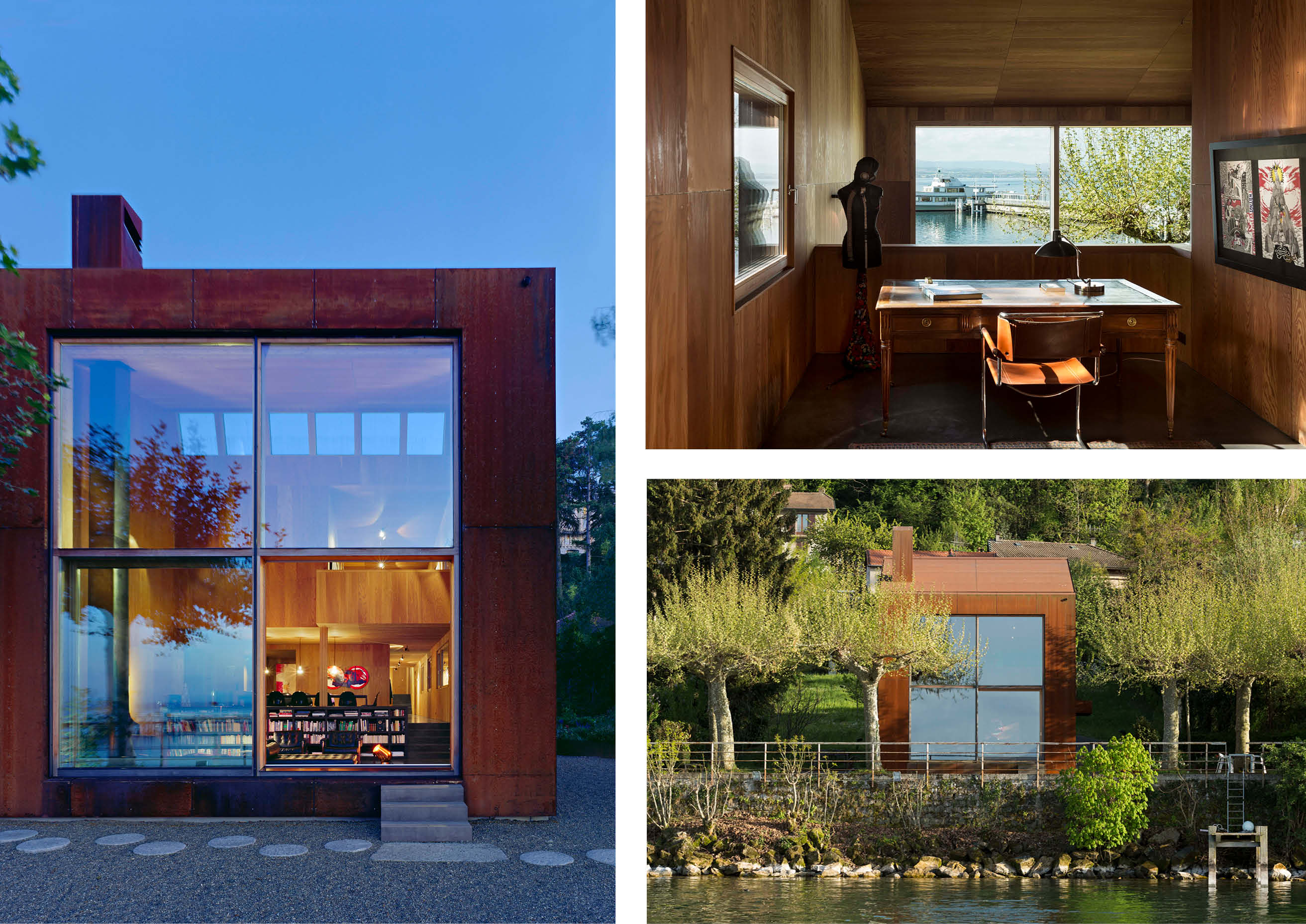 The centrepiece of Casa 26, the cathedral lounge is distinguished by its impressive volume and its immense 9-metre high sliding glass window overlooking the lake. A vintage black and grey chequered carpet hosts a Charles Eames oval coffee table flanked by two New York Sata Italia armchairs. A LC4 Le Corbusier chaise longue and a De Sede sofa in cognac leather are judiciously placed facing the lake to admire the view.
Separated by a bookcase and overlooking the living room, the dining area consists of a large black table that can seat ten guests on mismatched chairs signed by various contemporary designers.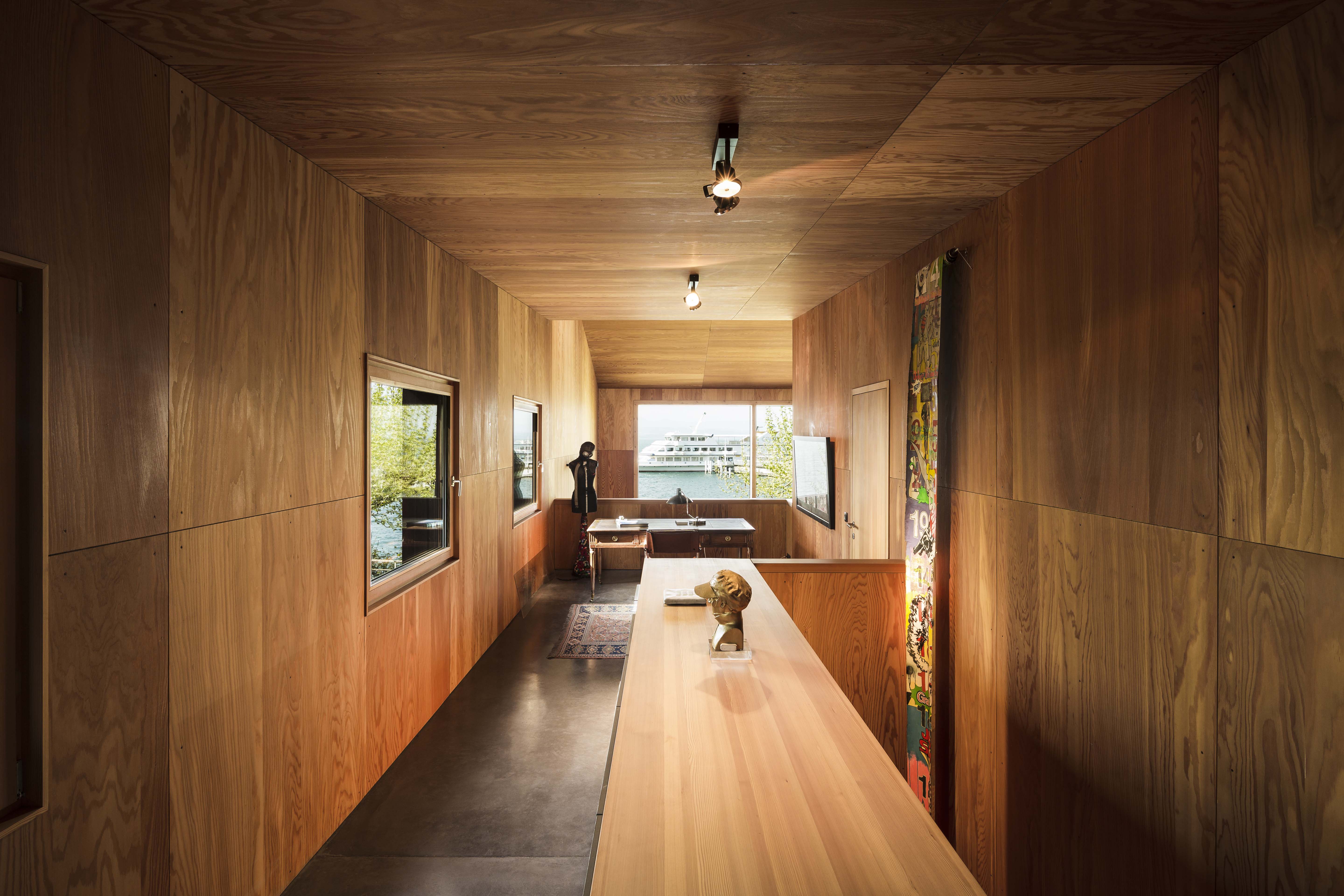 On the first floor, a mezzanine with a reading corner opens onto the living room and offers a view of Lake Geneva. Two bedrooms with communicating bathrooms occupy the east side. At the end and on the other side of the corridor, a third bedroom and an independent bathroom complete the night space. A fourth bedroom with bathroom is located on the ground floor, opposite the entrance. Finally, an independent studio occupies the back of the house, ideal for a couple of friends or their grown-up children.
Information and booking: www.otoctone.com
Discover our exceptional properties for sale in the Chablais region.