Exceptional properties
2020-10-27
Paul-Louis and Françoise in Évian-les-Bains
This is a great story, as it happens in real estate. Paul-Louis and Françoise bought this apartment in 2017 located in Le Belvédère, on the border between Evian and Neuvecelle, when they were looking without really looking. A deal concluded in 8 days!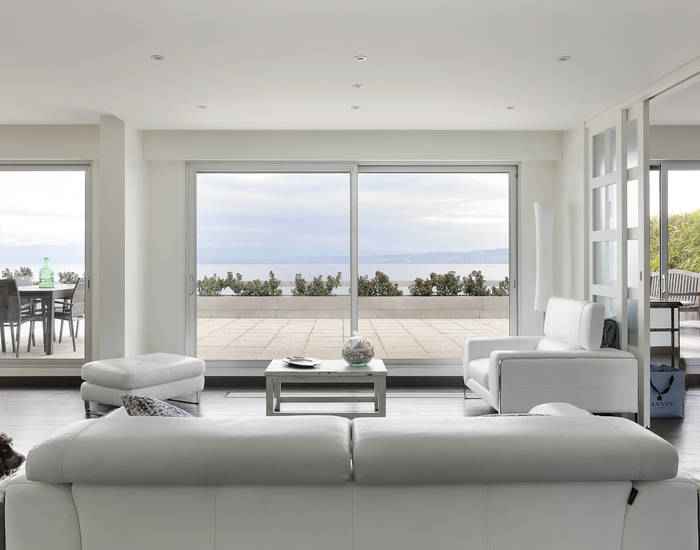 "We found the property at the right time, in the right place," says Paul-Louis, "because this apartment corresponds exactly to what we dreamed of. We have lived in Burgundy for 19 years, but our objective was to come and live here ". Their project of finding the rare pearl on Lake Geneva has matured for 25 years. "At the time, we lived in Lutry, near Lausanne, which we left with lead in our shoes, for professional reasons." During the summer of 2017, when they spent their holidays in Mougins as they do every year, both are still thinking about the project of finding their new place to live. During their travels, they come across a BARNES advertisement for a house for sale in Évian that they might like.


"The residence offers terraces on each floor, thanks to its pyramidal shape"
They contact the BARNES agency but consultant Karine Gonnord tells them that the property has just been sold. "By taking the time to discuss with us, she thinks of a property that could suit us. The appointment is therefore made for the same afternoon! ". In a beautiful landscaped park, this residence of the 70s "not at all old-fashioned", offers terraces on each floor, thanks to its pyramidal shape. The 134 m² apartment benefits from very spacious and optimal light thanks to the large bay windows and the large terrace overlooking the lake. The apartment having been redone by the predecessors, who in particular broke partitions to enlarge the volumes, Paul-Louis and Françoise will only repaint all the walls in white, to further enhance this ultra-bright, sober and soothing atmosphere.

"Évian is an international city, very open-minded"
"We had excellent contact with Karine Gonnord. His advice and professionalism were decisive, in particular on two points. She was able to quickly find us a banker (Banque Palatine in Lyon), who was very efficient in quickly making this purchase a reality. And the second point concerns his determination and his tenacity to allow us to sign, while we had a condition precedent of financing and the seller was still scalded by a sale that had previously come to nothing. Finally, why Évian? "Life there is both peaceful and very dynamic, between lake and mountain activities, the quality and diversity of cultural and sports infrastructures. It is an international city, with a very cosmopolitan population, very open-minded, with a real ease of integration. When we settle here as our main residence, we will take a pied-à-terre in Paris, easily accessible via Geneva, thanks to the Léman Express. "