View of Lake Geneva
Discover our selection of properties enjoying a magnificent view of Lake Geneva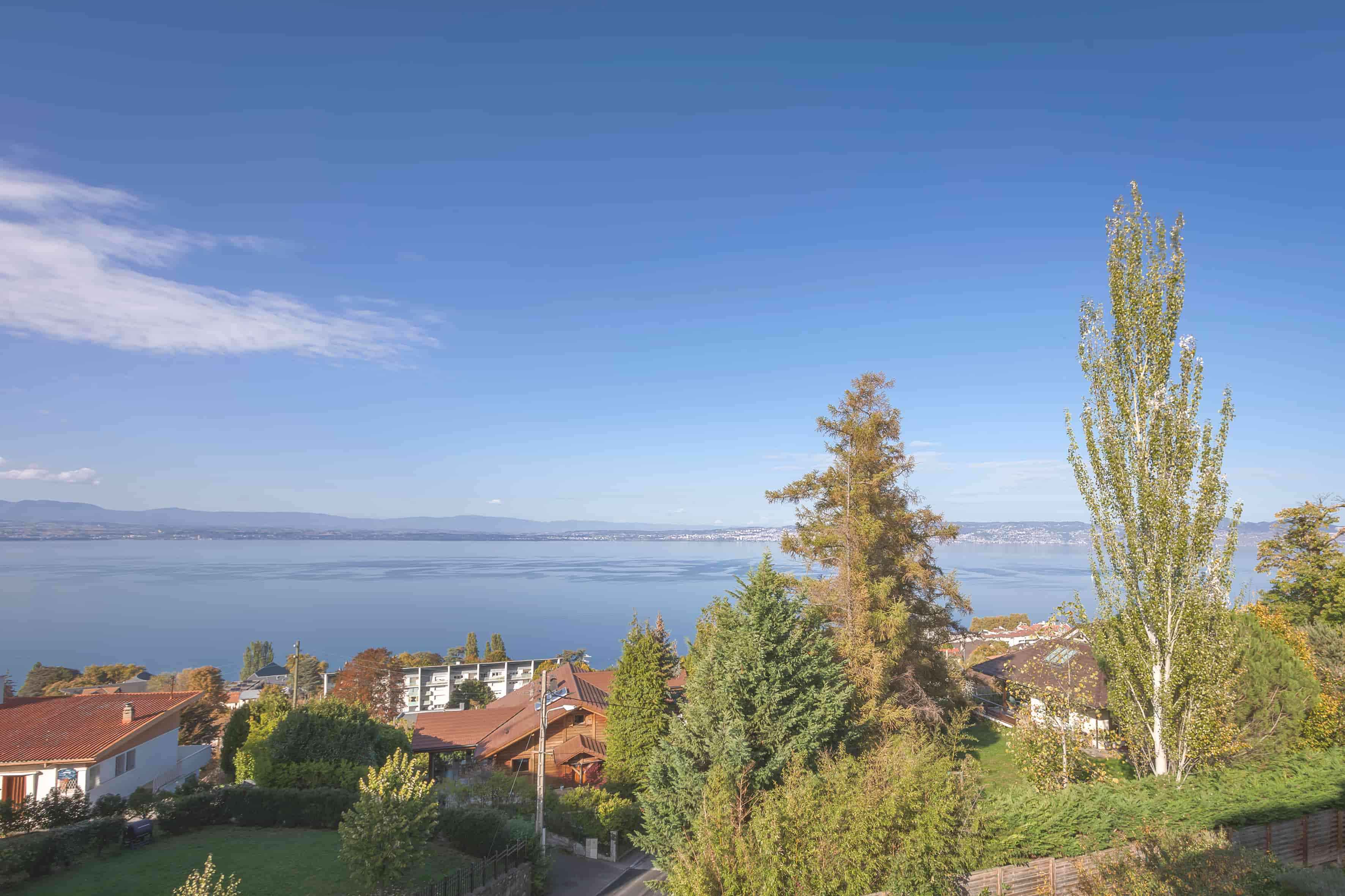 Discover our selection of properties enjoying a magnificent view of Lake Geneva
Enjoy the view of Lake Geneva

The whole region is fortunate to be able to enjoy an house on the Geneva Lake. Shared with Switzerland, the lake presents itself as an inland sea. We especially remember its softness and its color which make the greatest happiness of the inhabitants. Being able to enjoy a view of the lake is therefore a privilege that more and more people are looking for when coming to settle in the region. This is why BARNES Léman strives to present real estate that meets the growing demand of customers. Architect houses, contemporary villas or apartments, many of our properties have a panoramic view of Lake Geneva.
Rare and beautiful properties on the shores of Lake Geneva
Few people can benefit from this kind of view of Lake Geneva. Properties with a view of Lake Geneva are real pearls. Buying a house or an apartment facing Lake Geneva also means having a view of neighboring Swiss cities such as Lausanne, Nyon or even Vevey. Buying in front of the lake means enjoying a panoramic view of the lake, Switzerland and the mountains, while also taking advantage of the famous southern exposure.
The history of Lake Geneva

Of glacial origin, Lake Geneva, the largest lake in Western Europe, was formed nearly 15,000 years ago following the retreat of the Rhone glacier. The name "Lake Leman" comes from the Latin "Lacus Lemanus". Also called Lake Geneva, it has been a communication route since ancient times. It facilitated the transport of goods in Roman times to the ports of Nyon, Lausanne, Thonon and Geneva. Today, the main purpose of Lake Geneva is to provide drinking water to several thousand people thanks to a dozen pumping stations. It also has a strong tourist activity and offers many leisure activities on its shores or around. But then, what are the activities around the Geneva Lake ?
What to do around Lake Leman ?

Lake Leman offers numerous lake and land activities. As a real link between Switzerland and France, it offers to the inhabitants and tourists an idyllic setting to enjoy outdoor activities. Hiking or biking on the shores of Lake Leman, canoeing on the blue waters of Lake Leman or even a hot air balloon ride, all kinds of activities are available to enjoy the exceptional setting of the region. Would you like to live on the shores of Lake Leman? Discover all our offers of properties on the water or with a view on the lake.